Credit Systems International, Inc.
Partnering for Success
Established in 1980, Credit Systems International, Inc. (CSII) is a nationally recognized Accounts Receivable Management firm headquartered in Fort Worth, Texas. CSII specializes in consumer centric collection solutions and continues to provide dependable recovery strategies for a multitude of industries with extensive experience in the healthcare, utility and governmental industries. As a member of ACA International, Inc., The Association of Credit and Collection Professionals, CSII places top priority on compliance and treating all people with respect and integrity while reaching top liquidations for all clients' portfolios.
---
Accreditations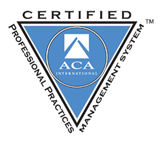 The Professional Practices Management System (PPMS) certification is a rigorous process requiring initial and on-going internal audits to ensure an agency has documented quality management policies and procedures. CSII successfully completed the ACA International's extensive process to become a PPMS certified collection agency validating the effectiveness of CSII's department specific work standards. The PPMS certification was designed to ensure consistent quality control and production at all organizational levels within an agency and is based upon the internationally recognized standards of ISO 9000 and Six Sigma.


CSII contracts with an independent Certified Public Accountant annually for a SSAE 16 audit according to standards recommended by American Institute of CPAs (AICPA.)


CSII is a longstanding
and active member of the ACA International, The Association of Credit and Collection Professionals.