CSII successfully completed a SOC 2 Type II Service Organization Control (SOC 2) examination in accordance with attestation standards established by the American Institute of Certified Public Accountants (AICPA) providing evidence that CSII has a strong commitment to deliver high quality services to our clients.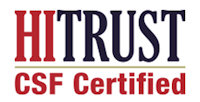 CSII holds the elite HITRUST CSF Certification. HITRUST CSF is a certifiable framework that incorporates requirements from existing standards (including ISO, NIST, PCI, HIPAA & HITECH) and is utilized by organizations that create, access, store, or exchange protected health information. With this risk and compliance-based certification, CSII assures our clients that data is managed with the highest of standards in securing protected healthcare information. This validates CSII's consumer centric approach to accounts receivable management.


CSII is a longstanding
and active member of the ACA International, The Association of Credit and Collection Professionals.